QUINTA DO ROCIO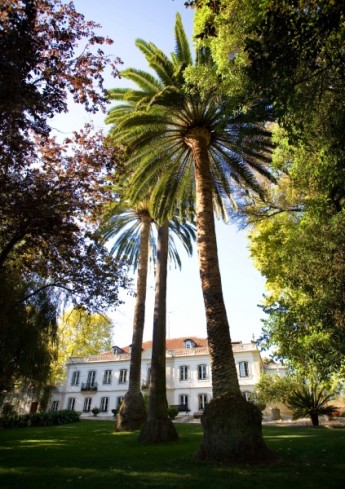 Quinta do Rocio red, was an unprecedented project brought about by a partnership between DFJ Vinhos and Tomás Sanches da Gama, owner of one of the most beautiful and finest estates in Alenquer and which adjoins the Quinta de Porto Franco.
The Rocio lands, near Alenquer at 50 km north Lisbon, are also a historical estate of excellence given that it was here that the famous winemaker the Viscount of Chanceleiros was born and raised. Sebastião José de Carvalho the 1st Viscount of Chanceleiros won the fight against the Filoxera by planting American root vines in Portugal in the end of the XIX century.
The planting of the first vines in the property can be traced back to 1503 when Pedro Álvares Cabral (recently returned to discover the navigation route to Brazil) acquired the property.
Since then, the estate has been passed down between various families and circumstances through to 1939 when it was purchased by Tomás Sanches da Gama, the father of the current similarly named owner who inherited it at the age of 17.
Quinta do Rocio (Rocio means dew) has 15 ha of vineyards where are produced Syrah, Merlot, Touriga Nacional and Grenache grape varieties. Quinta do Rocio has also laboratory and the old "Adega" cellar from the Visconde de Chanceleiros times, now totally renewed. The Cellar has capacity for 350000 litre.
The Quinta do Rocio wines have the signature of José Neiva Correia and Mrs. Lisete Lucas who accepted the challenge of Mr. Tomás Sanches da Gama:
"To produce, from an historic terroir and of great quality, a wine which the philosophy reflect the modern interpretation of the tradition."
QUINTA DO ROCIO 2006
Presented to the journalists in the Quinta do Rocio the 6th de December 2007, being produced 5786 bottles from the unusual blend of Shiraz, Merlot, Touriga Nacional and Grenache grape varieties (each one 25%), ageing 9 months in new Seguin-Moreau French oak barrels, and 12 months in bottle before going to the consumer.
To know more about the Quinta do Rocio 2006 follow this link:
http://www.dfjvinhos.com/en/page/vinhos/segmento/132/
QUINTA DO ROCIO 2007
Presented to the journalists in Lisbon at York House the 7th September 2009, being produced 6974 bottles of the same blend of Shiraz, Merlot, Touriga Nacional and Grenache grape varieties (each one 25%), ageing 12 months in new Seguin-Moreau French oak barrels and 12 months in bottle before going to the consumer.
To know more about the Quinta do Rocio 2007 follow this link:
http://www.dfjvinhos.com/pt/page/vinhos/segmento/60