DFJ VINHOS commended BEST PORTUGUESE SME EXPORTER 2019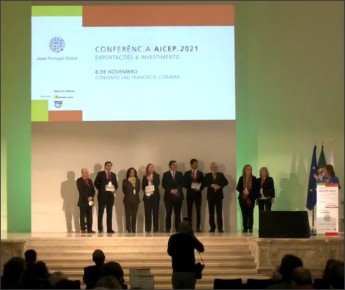 Snap 2021-11-11 at 16.07.13_2
AICEP (Portuguese Investment and Trade Agency) held on 11/8/2021 at the São Francisco Convent, in Coimbra, the 3rd Annual Conference under the generic theme "Exports & Investment".
At this event, the "BEST SME EXPORTER" and "Best Investment" awards were given to companies that, in 2019, stood out for their performance in the development of their internationalization and/or investment strategies, within the scope of projects financed by Portugal2020, under the responsibility of AICEP, and in accordance with the criteria of this incentive program.
The company Novarroz won the "Best SME Exporter" award in recognition of its strategy and growth in internationalization. Here's our Congratulations for the achievement.
DFJ VINHOS selected for the same award won one of two Commended mentions.
José Neiva Correia chief winemaker and president of DFJ VINHOS thanks his entire team and business partners for this recognition. In his words "Our work of excellence, innovation, strategy and partnership with our customers in more than 50 countries has been crucial to our success."
The Deputy Manager – Mr. Vasco Neiva Correia and the Financial Director – Mr. José Elias participated in the event and received the award.

*********************************
DFJ VINHOS
CREATING WINES THAT PEOPLE LIKE TO SHARE
DFJ VINHOS born in 1998 and Mr. José Neiva Correia is the chief winemaker and owner.
It has 250ha of single estate vineyards under Integrated Production (sustainable agriculture).
Exports over 99% of 10 MILLION bottles to over 50 countries.
Until today won more than 4000 awards worldwide.
info@dfjvinhos.com
https://dfjvinhos.com/
https://www.facebook.com/DFJ-Vinhos-193631540677339/
https://www.instagram.com/thenewportugal/
https://www.youtube.com/channel/UCuRH80isJXecT-uXUPGEkGA