Francisco Gomes - Perfection is possible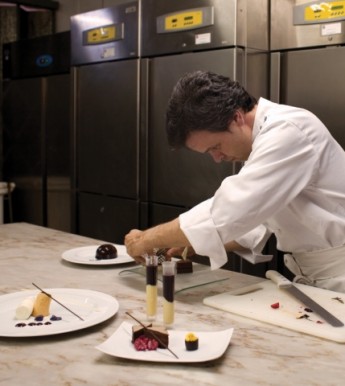 Wishing to follow a business career, Francisco Gomes first studied management at the Oporto Fernando Pessoa university and went on as far as opening two company support offices. However, family tradition was to prevail and Francisco Gomes, now aged 35, opted to totally dedicate himself to managing the Colonial, one of the pastry shops founded by his grandfather Joaquim Pereira Gomes, the great 1960s entrepreneur in this sector in Barcelos. The Pérola and Colonial confectionaries still live on and are managed by two partners, the children of the founder and respectively the aunt and father of Francisco.
Indeed, this simple management of the family business quickly turned into a sincere passion for everything involved in métier, the immensity of its latent potential and particularly the challenge of reproducing his own creative versions of the new trends encountered and learned about at the many international fairs and events that he religiously attends year after year. And hence, when the leading specialists began inviting him to participate in various different courses and training programs, Francisco Gomes decided to change his life and learn the deepest secrets to pastry making and engaging in an intense learning process with the créme de la créme of international specialists while also training national chefs.
In 2005, he established partnerships with the École Valrhoma, in France, a specialist in gourmet pastries (petit-fours and tactile textures, among other variations) and with Michel Willeum, one of the most reputable and renowned of world pastry chefs currently in the business and, beyond being a partner and friend, is now his consultant on the different collections presented to clients of the Colonial. Later on, there was agreement with the workshop of Pierre Hermé, considered the "Pablo Picasso" of pâtisserie given the creativity and irreverence of his specialities, where Francisco Gomes learned the techniques behind making macarons (small cakes of French origin made from almonds, egg whites and sugar), tout fruit (products made entirely from fruit) or the celebrated 'best of' Pierre Hermé.
One year on, he met Miguel Moreira, owner of Parque da Penha in Guimarães and partner of chef Pedro Nunes in a catering business, at the world championship for the pastries sector taking place in Lyon. The proposal to team up and cooperate was not long in coming with the first instance the staging of a refined and sophisticated dinner for the president of a major Portuguese bank.
Francisco Gomes presented a combination of lychees, rose petal and raspberries covered in chocolate cream and served in a shape mimicking a tube of toothpaste. A dessert that encapsulated a personal style given his penchant for the transformation of traditional national sweets into daring and innovative proposals. Why should a toucinho do céu not be enveloped in a bubble of citrus? Anything goes just so long as it displays
quality and creativity and this is particularly the case given that Pedro Nunes himself stresses the total freedom his son has for innovation.
Correspondingly, Francisco Gomes is consultant not only to the São Gião pastry shop and restaurant but also to the catering company. In the first quarter of 2009, Barcelos, his place of birth and always his residence, is to inaugurate the first ever Portuguese pastry workshop, an initiative with the backing of Colonial.