FRESH FIGS WITH BARRANCOS PROCCIUTTO CURED HAM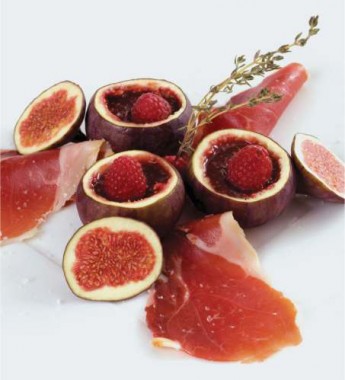 Ingredients
8 Pingo de Mel* fresh figs
8 Barrancos cured ham slices
1 glass of PORTADA red
80 g/2.8 oz , sugar
110 g/3.8 oz raspberries, fresh or frozen
Salt flower
Method
Slice the figs just 1 cm below the stem in order to make a hood. Set aside. Scoop out the fig's flesh and reserve.
Mix the sugar and red wine in a pan and reduce to around half. Stir in the raspberries and figs. Cook over a low heat for about ten minutes before finishing it off with the hand blender. Rectify with sugar and let thicken for 3-4 minutes.
Final steps
Stuff the figs with the puree and place the cured ham as shown in the photo. Garnish with a pinch of salt flower.
*A fig variety whose greenish hue and translucent flesh closely resembles White Marseilles.
Complement with FONTE DO BECO red wine; PORTADA Winemaekers Selection or Bigode red at 15ºC to 17ºC