PARTRIDGE WITH WILD MUSHROOMS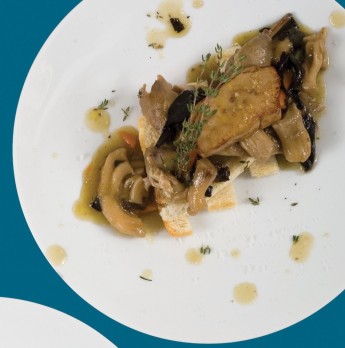 Serves 4
Ingredients
4 partridges
2 carrots
1 stalk of celery
1 leek
3 medium-sized onions
1 bottle of MONTE ALENTEJANO Reserva red wine
3 garlic cloves
4 slices of foie gras 1.5 cm/0.6 inches thick
4 pieces of toast with their crusts removed
150 g/5.3 oz chanterelle mushrooms
100 g/3.5 oz man-on-horseback mushrooms
2 tbs of lard
Coarse salt to taste
Method
Clean the partridges, carefully removing legs and entrails. Stuff with the chopped leek, carrots and celery, place in the wine, season with salt and pepper and marinate for 48 hours.
Meanwhile, prepare a sofrito or stock from the carrots, chopped onion and olive oil.
Fry the partridges, first in lard until golden, then in the sofrito. Add the marinade and stew the partridges until tender. Tip in the mushrooms and cook for another five minutes.
Remove the partridges from the sauce, place a slice of foie gras on top of each and bake in the oven for three to four minutes.
Place the partridges on top of the toasts, add some sauce and serve with roast potatoes.
Complement with SEGADA red wine at 15ºC to 18ºC.