Pedro Nunes - Recreating the taste of Portugal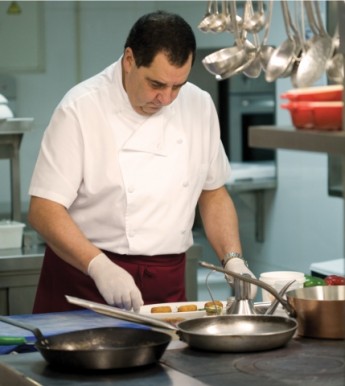 He began playing the role of host when barely eight. The first guests were family and friends waiting around in the family residence until late in the evening in expectation of the meals he would prepare for them. He would serve them eggs, lots of eggs, dished up in manifold varieties - scrambled, fried, boiled, with tomatoes and ever more inventive ingredients. Friends cheered and his parents found it amusing but not so far as considering this passion for cooking as anything more than a whim or foresee how it might turn into a career. Among the high bourgeoisie of 1960s Oporto becoming a chef was neither ordinary nor traditional; it simply was not done.
Born and bred in Oporto, Pedro Amaral Nunes, fourth son of a corporate director, set aside the dream of owning a restaurant and went to work for his father and the family company. For almost a decade, he was a sales agent bent on selling tractors and backhoes until the day came when, already in his thirties, he mustered the courage to leave the family company and fulfil his childhood dream: to open up a place of his own in which to give vent to his outgoing character, entertaining patrons and friends and offering what was then his vision: a blend of traditional Portuguese dishes creatively revisited with certain Spanish recipes - a lasting influence in his work - to boot. São Gião, the restaurant that made him famous and became a household name opened in 1987 in an unlikely location, Moreira dos Cónegos, near Guimarães and a thirty minute drive from Oporto. This did not make it any less successful. After a year of "inexperience and blunders", Pedro Nunes gave his chef notice and himself took up the pots and pans (in clay and copper mostly), totally dedicating himself to his art. He gave up on indulging in his much-loved Spanish cooking as there had been no craze for the likes of paella.
He instead bet on an "everyday" cuisine, true to his northern roots and shaped to his own image. He only cooks that which he enjoys eating, which is admittedly almost everything, and even more importantly what he himself feels like eating on that particular day. Both imaginative and with high standards of exactness, he admits that, even today, he first comes up with the idea of a dish name and only later decides how to go on about it, testing and trying until satisfied with the final result. The option for fresh and top-quality raw materials and also for locally sourced goods - alheiras, vinaigrettes, smoke-cured sausages and ham - is mirrored in a varying and extensive daily menu and, what is more, that appears utterly devoid of any form of affectation: tripe Oporto-style are as much a must as a foie terrine, roasted salt cod as frequent as sweated lobster. This approach proved right. Henceforth, São Gião's 400 square meters and seating for a hundred diners have been permanently packed out especially at lunch, the ideal time for this luminous and ample space, with its wide windows opening out onto acres of vines. The fireplace is huge with a mantelpiece cast from a single iron section both towering over the room and bestowing a homely quality to an ambience with an almost mesmerizing sense of familiarity.
More than a decade later, in 2000, the success achieved by the Moreira de Cónegos restaurant drove Pedro Nunes to take the same concept to Matosinhos in a slightly smaller space with only 60 seats. Again, he took over personally in the kitchen. Again, he carried the day: a full house throughout the year. That was until a stroke attributed to overwork forced him to step back and lead a less hectic life. After recovering, he returned to his roots and the old São Gião, which in the meantime has been showered with distinctions, for instance awarded a BibGourmand by the Michelin Guide, the accolade immediately preceding the much coveted star. With Miguel Moreira, owner of the wonderful Casa da Penha manor in Guimarães, he has also launched a catering service for parties and social gatherings.
But in 2005 a friend and future partner, drew his attention to an unusual site just off Leixões harbour known locally as "seafood restaurant' street" - an old storehouse for curing fish with 30 foot high walls and, crucially, parking space right in front. Unable to resist this challenge, Pedro Nunes opened the 'Quarenta e 4' (after the door number, 44) in 2007, a restaurant with a cuisine concept very similar to that of São Gião, although now offered in a hipper and more cosmopolitan manner. At Quarenta e 4, style and design make a difference, both in the presentation of each dish and in the detail to the decor. Two huge skylights wash the two refurbished floors with natural light where red velvet sofas, stripped woodwork and crystal chandeliers cater to an urban and night-going clientele keen on savoury dinners extending into the small hours and where each wine is carefully tailored and selected to match the Pedro Nunes dishes. Conspicuously displayed at the entrance, the extensive and varied wine cellar ushers us proudly in. The decision as to the choice of wine lies with the renowned sommelier, Jorge Bita. Pedro Nunes fetched him from Lisbon's Eleven restaurant even if the impressive Jorge Bita CV includes other renowned restaurants, such as the Algarve's Vila Vita or the Parisian Tour d'Argent. Even though the ambiance at Quarenta e 4 is admittedly more sophisticated than up at São Gião, the cuisine basics have remained virtually unchanged.
As a northerner, Pedro Nunes remains faithful to his roots, upholding the region's gastronomic traditions for example, clinging to a wood fired oven and stove. He furthermore incorporates Galician heritage especially in the preparation of the fish and seafood, highlights to the menu for a restaurant equipped with its own seawater tanks. All of this it goes without saying served up with the same zest and total lack of affectation which has always been his hallmark: beef sandwich quarenta e 4 style or broth of prawn with strawberries, salt cod écume or pork knee with smoked sausages. In addition to the degree of complexity involved in their creation, they are all specialities. Try them and find out why.