ROASTED FRESH HAM WITH CASSOULET OF TURNIP GREENS AND SAUSAGES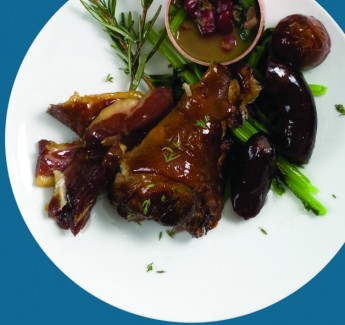 Winter Menu
Serves 4
Ingredients
2 fresh hams
Half a litre/15 fl oz olive oil
1 farinheira*
1 black pudding sausage or morcela
1 chouriço de vinho**
1 linguiça***
1 onion
5 garlic cloves
3 bunches of parsley
1 litre/30fl oz MONTE ALENTEJANO red
Salt
Ground pepper
10 pepper corns
For the cassoulet
1 chopped onion
300 g/10.6 oz baked kidney beans
1 grated carrot
1 chopped tomato
2 chopped garlic cloves
1 bay leaf
1 bunch turnip greens, washed and stemmed
1 dl/1/2 cup olive oil
Method
Season the fresh ham with salt and ground pepper, add the onion, parsley, wine and pepper corns and leave to marinate for 12 hours. Then, boil the ham in salted water for 90 minutes, until tender. Remove the meat and throw in the sausages, allowing them to cook for ten minutes. When done, put aside and save the cooking water. Place the ham, marinade and olive oil in a roasting pan in the oven. Roast at 180ºC/356ºF for 40 minutes, turning it over until golden brown on both sides.
For the cassoulet
Make a sofrito with the onion, garlic, carrot, tomato, bay leaf and olive oil. When softened and about the right consistency, add a little cooking water. Leave to simmer for a while and then stir in the beans and cook over a low heat for 20 minutes. Add more cooking water, the turnip greens, correct the seasonings and boil until the turnip greens are cooked.
To serve
Halve both hams, serving half to each person with the cassoulet and sausages.
*Smoke-cured Portuguese sausage, made from pork fat, flour and spices.
**Portuguese smoked sausage flavoured with wine and spices.
***Milder and slender than chouriço, linguiça is a Portuguese smoked sausage seasoned with garlic and paprika.
Complemented With Grand'Arte Pinot Noir