STUFFED SQUID WITH GAZPACHO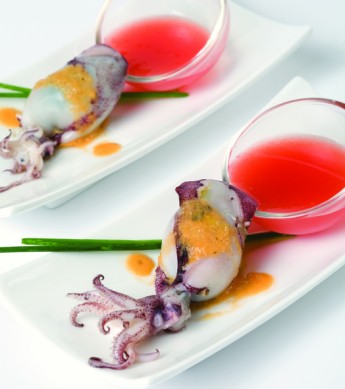 Serves 4
Ingredients
Stuffing
4 small squids, whole
One loaf of bread, soaked
30 g/1 oz cured ham
Half onion, chopped
1 clove of garlic
One quarter chopped small tomato
4 tbs CORETO white
4 tbs water
3 tbs olive oil
Salt and pepper
For the squid stew
Half a chopped onion
1 garlic clove, chopped
Half glass CORETO white
1/2 glass water
4 tbs olive oil
Parsley, salt and pepper
For the gazpacho
Half an onion
20 g/0.7 whole bell pepper
One small tomato
200 cl/7 cups water
20 g/0.7 oz cucumber
Salt and pepper
Method
Stuffing
Clean the squids, chop the tentacles and the cured ham. In a saucepan, gently fry over a low heat all the stuffing ingredients except for the bread for approximately fifteen minutes. Stir in the bread until a thick paste forms before correcting the seasonings. Then, using a pastry bag, pipe this mixture into the squids and seal them shut with a toothpick.
For the squid stew
First, put all the ingredients listed into a saucepan and cook for 20 minutes. Then, place the squids inside and leave to stew for two to three minutes,
Gazpacho
Toss all the ingredients into a blender and mix until smooth. Correct the seasonings. This soup may be served in shot glasses, as shown in the photo.
Complemented With Casa do Lago White; CORETO white; PORTADA Winemakers Selection white or PORTADA Reserva white