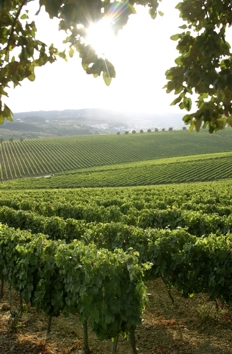 The climate in the Lisboa (Lisbon) wine region is temperate, soft, with rain and humidity during the appropriate season. However the many valleys and hills in this region give rise to the most diverse microclimates. The quality and characteristics of the soil also vary leading to different terroirs. Finally, the proximity to the Atlantic Ocean moderates the climate so that there is little variation in temperature, with moderate Winters and Summers, and the nocturnal dew leads to regular maturation.
The 200 hectares of vineyard belonging to Rui Abreu Correia, Herds., (RAC) in the Lisbon region, are prepared for mechanical grape picking (12 to 15 ha/day), in order to avoid the Equinox (September 21st), when 90% rain is predicted.
In the RAC vineyards the plants are fed with organic material produced from domestic residue. All this material is tested for heavymetals.
The nutrition of the vines is done in a rational way without excesses or deficiencies.
Thevine's needs dictate the dosage of water and nutrients conceded.
The final result is high quality production well above the average production in Portugal.
All the wine is made in accordance with the client's wishes and the demands of the market in matters of taste. This results from 20 years of partnerships with foreign distributors, namely the British market, the most demanding and difficult of world markets.
DFJ uses only French oak barrels bought from Seguin Moreau and restores them in its own cooperage.