Alentejo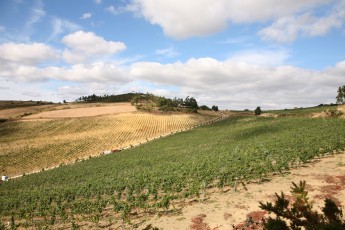 The wine region of Alentejo produces smooth and easy drinking red wines having the Portuguese consumers' preference. Today the other wine regions follow the example. José Neiva Correia did it first in the 80's.
Alentejo is well worth getting to know. All that is said about the Alentejo is true: light, unrelenting sun, dryness, endless undulating plains, cork trees and holm-oaks, wine and olive oil, bread sauces and lamb stews, coriander and purslane, big modern wines and old clay-pot fermented reds; good, hospitable folk. This is all Alentejo but there is so much more, an Alentejo that has to be delved deeply into, an Alentejo that needs time to understand why its people and places make it a region of such extraordinary character.
The never-ending landscape instills calm and contemplation, punctuated by villages steeped in history (Marvão, Monsaraz, Avis, Crato); grandiose towns (Evora, Beja, Elvas, Portalegre); stunning Atlantic beach-strewn coast – some bustling and crowded, others hidden and deserted; the hill ranges of Ossa, Portel and São Mamede; the valleys of the Guadiana and Sado rivers; the new landscape created by the vast dam at Alqueva. In addition there are the pastures, game reserves, golf courses, wine routes and tastings, water sports and historical tours.
Once upon a time Alentejo vines were cultivated by Phoenicians, Greeks and Romans. Nowadays they are grown on vast farms and wine-producing estates and their wines have put the name Alentejo among the best wines in Portugal, while its culinary tradition is regarded as one of the most tasty and original. A world of different flavours that requires time to understand and appreciate – just like the rest of the Alentejo.
in: http://www.viniportugal.pt/index.php?option=com_content&task=view&id=28&Itemid=315
To know more visit the site of the CVR ALENTEJO at: http://www.vinhosdoalentejo.pt/