Best Portuguese SME Company in the Agroindustry sector 2022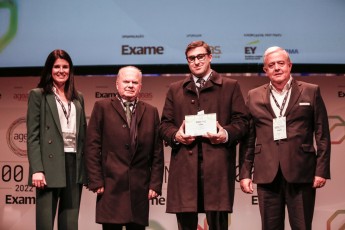 D F J VINHOS 1red85
DFJ VINHOS
BEST PORTUGUESE SME COMPANY IN THE AGROINDUSTRY SECTOR 2022
On the 25th of January, at Casa da Música in Porto, Vasco Neiva Correia - Executive Director and José Elias - Financial Director received the award: BEST PORTUGUESE SME COMPANY IN THE AGROINDUSTRY SECTOR 2022
This is an initiative of the EXAME magazine that every year chooses according to financial criteria: THE BEST 1000 SMEs.
That award demonstrates our leadership and management capacity.
We thank our team, customers, suppliers, friends and our families for this very important recognition of our work. We wish everyone health and good wines!
*******************************************************************************
DFJ VINHOS | CREATING THE WINES THAT PEOPLE LIKE TO SHARE!
DFJ VINHOS was born in 1998 just to export, today own 250ha of vineyards, not irrigated, with certified integrated production. JOSÉ NEIVA CORREIA is the head winemaker and owner producing wines since the 1974 harvest. In 2022 we exported more than 99% of the 10 million bottles we produce to more than 50 countries. Since 2010 we have won more than 5000 awards internationally. In 2022, according to GWMR, we were the company that won the most medals in the world in red wines, the 2nd in white wines and also the 2nd in rosé wines.