COLD WHITE CHOCOLATE FONDUE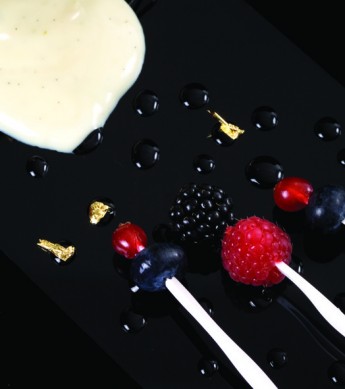 Grand'Arte

Ingredients
300 g/10.5 oz white chocolate
500 g/17.6 oz full fat milk
10 g/0.3 oz cornflour
1 vanilla pod
1 green lemon, grated zest
Gelatine CORETO Rosé cubes
170 g/5.9 oz sugar
100 g/3.5 oz mineral water
100 g/3.5 oz CORETO Rosé
12 g gelatine leaves
Method
Mix the cold milk and cornflour in a saucepan. Grate the lemon zest into the milk. Slit open the vanilla pod and scrape its contents into the milk. Then, throw in the remaining vanilla pod and bring to boil. Chop the white chocolate into a bowl and pour the heated milk over to a depth three times that of the chocolate. Keep stirring. Lastly, cover and allow to stand in the fridge for six hours.
Gelatine CORETO Rosé cubes
Soak the gelatine leaves in iced water for twenty minutes Make a syrup from the sugar, water and first measure of wine. Add the gelatine and allow it to fully dissolve. Stir in the second measure of wine and then pour into ice cube moulds and cool in the fridge for eight hours.
To serve
Pour the fondue onto concave plates and serve with mini fruit skewers and the CORETO Rosé gelatine.
Complemented With Pink Elephant Rose