CONSENSUS Lisboa white wine 2012 exclusive release on REVISTA DE VINHOS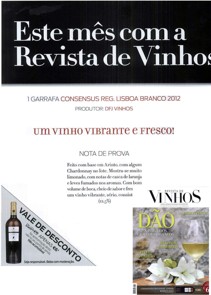 RV agosto 2013 Consensus 2012_website
The CONSENSUS Lisboa white wine 2012 has just been released exclusively on REVISTA DE VINHOS August 2013 edition. With the magazine one can buy a bottle presented in a single box at a price of six euros.
About this new harvest the Magazine editors wrote the following tasting notes:
"A vibrant and fresh wine!
Made based on Arinto with some Chardonnay. Shows up very lemony, with hints of orange peel and light smoked flavorings. With good volume in the mouth, full of flavor and freshness, a wine vibrant, serious, consistent (12.5%). "
This is an excellent opportunity to enjoy one of the novelties of this year of DFJ VINHOS.