FRIED TUNA IN A LIGHT CONFITURE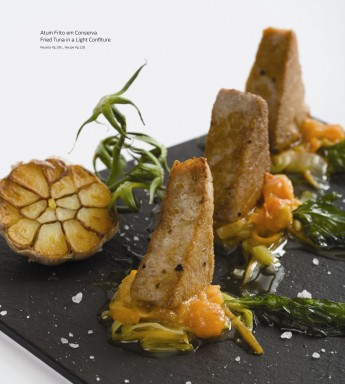 Serves 4
Ingredients
1kg/2.2 lbs red tuna, cut into 4 x 4 cm (1.5 x 1.5 inch)cubes
1 garlic clove, halved
4 dl /~1.7 cups olive oil
2 dl/~0.85 cup vinegar
1 glass of CORETO white wine
3 bay leaves
2 chilli peppers
10 white pepper corns
1 gourmet salad mix (assorted lettuce varieties)
Salt and pepper
Method
Season the tuna cubes with the pepper, cover with plastic wrap and leave for two days in the fridge. Rinse and pat them dry, season with salt and fry in olive oil over a medium heat. Once fried, place the tuna in a duly sterilized hermetic jar.
In the same tuna olive oil, very gently fry the garlic clove, bay leaves, chilli peppers and pepper corns. As the garlic becomes translucent, add the vinegar and wine and leave to simmer for about ten minutes, always over a low heat.
Pour this mixture into the jar and cover the tuna (when not completely covered, add more olive oil). Seal the jar and store for three to four days in a cool place to ensure all the seasonings fully blend.
Serve with the gourmet salad with the jar sauce serving as the dressing.
Complement with PORTADA red wine or PAXIS red wine at 15ºC to 17ºC.