GOLDEN LEAGUE 2022 BEST PRODUCER up to 250 hectares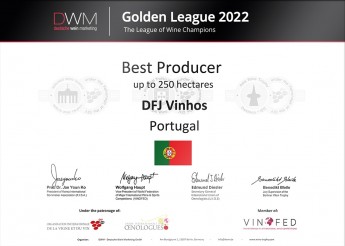 Golden-League-2022-Frame-Best-Producer-up-to-250ha_tsp
We are very proud to achieve one more great recognition of our work:
DFJ VINHOS it's the GOLDEN LEAGUE 2022 BEST PRODUCER up to 250 hectares.
DWM organize 3 wine contests, BERLINER WINE TROPHY; ASIA WINE TROPHY and PORTUGAL WINE TROPHY. After the results it's elected the GOLDEN LEAGUE 2022.
In total, in the 3 wine contests we won 26 Gold and 6 Silver medals.
To know more about this award visit: https://www.wine-trophy.com/results-golden-league/
*******************************************************************
DFJ VINHOS it's a Portuguese wine producer founded in 1998 only to export to the UK.
Mr. José Neiva Correia it's the owner and the chief winemaker creating wines since 1974.
Our goal "CREATING THE WINES THAT PEOPLE LOVE TO SHARE", with a full respect for the agriculture sustainability.
Today we export more than 99% of the 10 million bottles we produce to more than 50 countries.
Here's: DFJ VINHOS Presentation
DFJ VINHOS virtual visit: VIRTUAL VISIT