OCTOPUS SALPICÃO WITH A FINE HERB DRESSING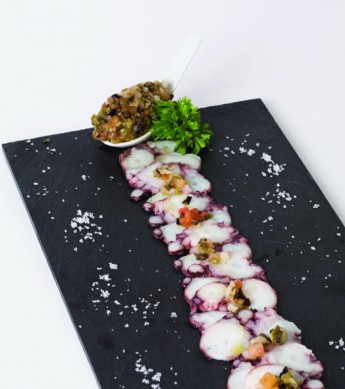 Serves 6
Ingredients
Octopus
1 octopus, around 2 kg/4.4 lbs.
250 g/8.8 oz. assorted lettuces (or a ready-prepared bag)
Whole peppercorn
Salt flower
Fine herb dressing
4 chopped basil leaves
1 medium bunch of coriander, chopped
40 pitted olives (either green, black or the traditional
Trás-os-Montes alcaparra type)
1/4 glass DFJ ALVARINHO & CHARDONNAY wine
1/4 glass water
1/2 glass olive oil
2 tbs of vinegar
Coarse salt and whole peppercorn
Method
Octopus
Boil the octopus for about 40 minutes in unsalted water. Let it cool, cut off the tentacles and cover everything tightly in plastic wrap (wrapping half the tentacles on either side of the octopus so that it resembles a salpicão - a large, smoked Portuguese sausage). Wrap in several layers of plastic, rolling and pressing to ensure a more compact "salpicão" effect.
Fine herb dressing
Whisk all the ingredients together vigorously until fully blended. Season with salt and pepper.
To serve
Unwrap the octopus and cut it paper-thin, ideally with a ham slicer. Place it around the circumference of a plate with the lettuce leaves in the middle. Pour the dressing generously over the octopus, sprinkle with a dash of salt flower and serve.
Complemented with GRAND'ARTE Alvarinho