ORIENTAL CHOCOLATE CAKE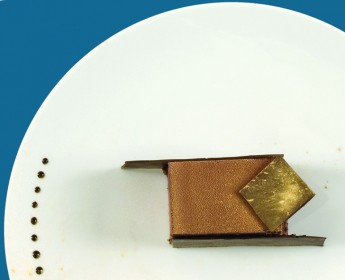 Menu for Families
Serves 6-8
Chocolate biscuit
Eggs 200 g/7 oz
Egg yolks 85 g/3 oz
Honey flower 115g/ 4 oz
Glucose 60 g/2 oz
68 % dark chocolate 180 g/6.3 oz
Cream 180 g/6.3 oz
Flour 60 g/2 oz
Method
Whisk the yolks, honey and glucose together. Place the mixture in a bain-marie at 55°C/130ºF. Whip the egg whites at a medium speed. Bring the cream to a boil and slowly drizzle it over the broken chocolate to emulsify. To achieve a smooth consistency add a small part of the initial chocolate mix. Finally, stir in the eggs and the sifted flour. Put in an oven preheated to 170°C/340ºF in a 2 cm/0.8 in deep tray with handles, lined with greaseproof paper.
Chocolate cremeux with Tonka beans*
Whole milk 115g/4 oz
Cream 115g/4 oz
Egg yolk 90g/3 oz
Sugar 30g/1 oz
68% dark chocolate 200g/7 oz
3 Tonka beans
1 teaspoon of white PORTADA Medium Sweet
Method
Boil the cream with the grated Tonka and make a custard out of the sugar, wine, yolks and milk. Let it cook until it reaches 85°C/185ºF. Continue to stir with a spoon. Drizzle the hot cream slowly over melted chocolate to emulsify and immediately fill the moulds.
Chocolate leaves
2 transparency sheets
68% dark chocolate 250 g/8.8 oz
Salt flower 6 g/0.2 oz
Method
Melt 500 g/17.6 oz of dark chocolate in the microwave and use this to dab a transparency sheet with a very thin layer. Sprinkle with salt flower before the chocolate hardens.
To serve
Cover the bottom of a 5cm high/1.9 inch square tart pan with tender chocolate biscuit, followed by a 1cm / 0.4 layer of chocolate cremeux and a chocolate sheet with salt flower. Repeat the layers twice and sprinkle with cocoa powder.
* Of Caribbean origin, Tonka beans smell like vanilla though their aroma is far stronger. Available from gourmet groceries.
Complemented With Escada