Paella of Tofu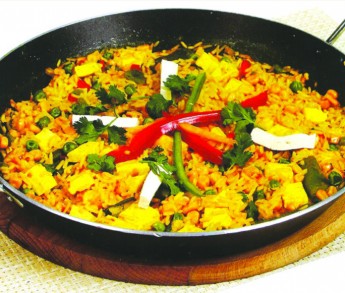 Mundo Portugues_Ed 29MAR_Pag39_fotopaella_web2
Serves 4
Preparation: 30 minutes
Calories: 634 kcal (dose)

PREPARATION:
Cut the tofu into cubes and season with salt, pepper and lemon juice.

In a paella, place the olive oil and stew the garlic, the onion and the peppers cut into cubes.
Cool off with white wine PORTADA.
Add the corn, peas, saffron, tofu and rice.
Reserve a few strips of pepper and tofu for decoration. Let heat through. Add the water and season with salt and pepper. Cook over low heat and rectify the seasoning.

Once ready, garnish with strips of tofu and peppers that separated. Sprinkle with coriander.

INGREDIENTS:
300 g of tofu
350 g of rice carolino
100 g of peas
100 g cooked sweetcorn
150 g of red and green peppers
0.5 dl white wine PORTADA
1 medium onion, chopped
1 bunch of coriander
2 cloves garlic, minced
1 spoon (soup) of saffron
7 dl hot water
A Lemon Juice
Salt, pepper and olive oil

Complement
Perfect with DFJ Alvarinho and Chardonnay at the temperature of 8 º to 10 º C.
Released at the newspaper "Mundo Português", edition nr. 1696, the 29th March 2013