RASPBERRY TART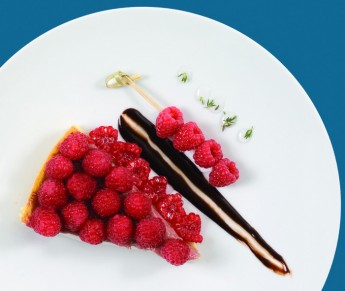 RASPBERRY TART
Serves 6-8
Ingredients
Sugared dough pastry
Unsalted butter 240 g/8.4 oz
Castor sugar 180 g/6.3 oz
Eggs 55 g/ 1.9 oz
Flour 400 g /14.1 oz
Cornflour 32g/1.12 oz
Salt flower 3 g/0.10 oz
For the raspberry crémeux
Raspberry puree 250 g/8.8 oz
Egg yolk 140 g/4.9 oz
Eggs 160 g/5.6 oz
Sugar 150 g/5.3 oz
Gelatine 6 g/0.2 oz
Butter 150 g/5.3 oz
2 teaspoons of white PORTADA Medium Sweet
Method
Sugared dough pastry
Cream the butter and sugar, slowly and steadily adding the eggs until the dough is a consistent texture. Mix the sifted flour with the cornflour and salt flower. Allow to refrigerate for 12 hours. Roll out the dough to a thickness of 3 mm/1/8 inch and grease a removable bottom tart ring. Prick with a fork, leave to stand for a further two hours in a cool place before baking in the oven at a temperature of 160ºC/356ºF until it begins to brown.
For the raspberry crémeux
Place the gelatine in cold water and leave to stand for about twenty minutes. Cook the raspberry puree, yolks, whipped eggs, constantly mixing with a stirring spoon as if for a custard until the temperature reaches 85ºC/185ºF. Then, add the rinsed gelatine leaves and allow to cool until 40ºC/104ºF. Stir in the butter and the wine with a hand blender until all the ingredients are fully incorporated. Cover in a bowl with Clingfilm and put in the fridge to set.
Display
Coat the mould bottom with the raspberry crémeux. Cover with fresh raspberries and garnish to taste.
Complemented With DFJ Alvarinho & Chardonnay