ROUPA-VELHA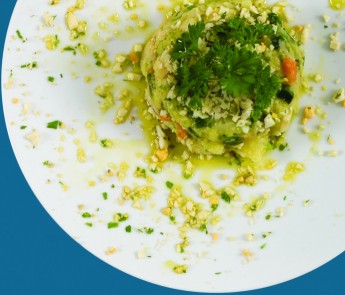 Christmas Menu
ROUPA VELHA (old clothes) is a typical dish of Minho (region in the north of Portugal), made with leftovers from Christmas dinner of cod fish, which traditionally eat at lunch on 25th December. Being made with the reuse of another meal, this dish began to be associated with poorer families, where lunch was served on Christmas Day. But this concept was lost and currently was transformed in a specialty to many Portuguese families (in Portugal and abroad), it is tradition to eat old clothes before serving the dish of meat, turkey or roast baby goat.
The origin of the name of traditional dish Portuguese, due to its appearance when it is served, which foods engage each other, cut into pieces with a mixture of colors and flavors. Being all the ingredients of good quality was an exceptional recipe, full of flavor that stands out in the balance of the vegetables, cod fish, potatoes' and olive oil. A traditional Portuguese recipe to remember.
Serves 10
Ingredients
Ten rings, 6 cm/2 inch diameter and 8 cm/3 inches high
(available from restaurant supply stores)
2.5 kg/5.5 lbs boiled potatoes, finely sliced (4 mm/0.15 inch)
2 finely chopped leeks
1 kg/2.2 lbs. of boiled bacalhau cod, shredded, skinless
and boneless.
2 carrots, finely sliced into stips
2 glasses of white CORETO
6 chopped sprigs of parsley
1/2 litre/2 cups of olive oil
600 g/21 oz. of boiled penca (Portuguese kale)
4 tablespoons of cream
3 boiled and chopped eggs
2 teaspoons of cornflour dissolved in 1/4 full glass of water
Salt and pepper
Sprinkle of cumin
Method
Sauté the leek in olive oil over a medium heat for three minutes. Stir in the cod and sauté it with the carrot and parsley for four minutes. Pour in a glass of white wine and simmer for an additional 5 minutes. Add the potatoes and most of the egg, again bring back to the boil. Stir carefully so that the potato does not break up, add the penca kale and remaining wine, cream, diluted cornflour and season to taste. Finally, fill the rings and cook in the oven for five minutes.
Serving
Remove the rings and place them on a 27 cm/10.5 inch diameter plate. Garnish brightly by sprinkling with the remaining chopped egg and cumin. Serve immediately.
Complemented with Manta Preta Reserva or with PAXIS Douro red and in alternative if you prefer a white wine with the excellent CONSENSUS.