​​​​​​​DFJ VINHOS THE NUMBER 1| RED Wines | Top Wineries in the World by Medal Count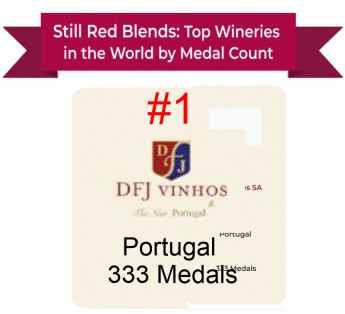 GWMR22_n_red#1_paris
Slideshow
DFJ VINHOS THE NUMBER 1 - RED Wines: Top Wineries in the World by Medal Count
DFJ VINHOS THE NUMBER 2 - WHITE Wines: Top Wineries in the World by Medal Count
DFJ VINHOS THE NUMBER 2 - ROSE Wines: Top Wineries in the World by Medal Count
We are very proud to share this great achievement of our work.
GWMR
The Global Wine Medal Rating (GWMR) by Gustos.Life @GustosLife collect all the wine medals of the World in one place.
DFJ VINHOS
DFJ Vinhos was founded born in 1998, owns 250 ha of vineyards in certified sustainability production. José Neiva Correia is the chief winemaker and owner, producing wines since the 1974 harvest. We produce an annual average of 10 million bottles, 99% exported to more than 50 countries, with the certification of the quality BRC standard - Grade AA.
Since 2006, 13 of our wines have been selected for Wine Enthusiast's list of the 100 TOP BEST BUYS OF THE YEAR, with emphasis on number 1 on the list in 2012. Since 2010, DFJ VINHOS has won more than 5000 awards (updating), 566 in 2022.
Cheers with good wines!
DFJ VINHOS
THE NEW PORTUGAL | CREATING THE WINES THAT PEOPLE LOVE TO SHARE!
Be responsible, drink wine in moderation!