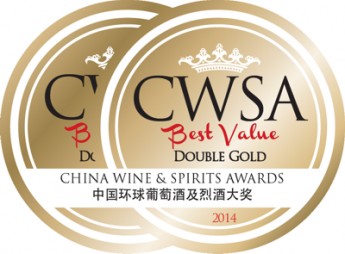 CWSA_Best Value 2014_Double Gold_logo
March 11, 2014
DFJ VINHOS wins at the biggest and most prestigious wine and spirits competition in China, the China Wine and Spirits Competition!
DFJ VINHOS shines in China's biggest and most prestigious wine and spirits competition!
DFJ VINHOS has just been awarded with an impressive Two Double Gold, 6 Gold, 2 Silver and the CWSA Lisboa Wine of the Year trophy at the CWSA Best Value medal at the China Wine and Spirits Awards Best Value 2014.
DFJ VINHOS triumphed in the blind tasting alongside the most famous brands in the world including Penfolds, Robert Mondovi, Astoria, Osborne, Wolf Blass, and 4,350 wine and spirits from 35 countries.
'This news has been a very pleasant surprise and we are thrilled that DFJ VINHOS has made such an impact with the biggest honor in the Hong Kong and China wine and spirits market. CWSA is the biggest and most prestigious wine and spirits competition in Hong Kong and China and the wine industry's equivalent of the Academy Awards - so this is a huge achievement for us', revealed JOSÉ NEIVA CORREIA owner and chief winemaker.
German born and Hong Kong based Importer Nikolas Prehn says: "This extraordinary competition has showed that at each and every price point, including the very highest - Chinese buyers and consumers want confidence that the wines and spirits they are choosing are the 'Best Value'. As CWSA Judges are known as the most respected buyers based here in Hong Kong and China, the results are trusted - and therefore winning wines and spirits showcasing their CWSA medal stickers are a desirable purchase."
"The CWSA Organization has been overwhelmed by the sheer quality of entrants for this year's CWSA Best Value', says Kelly England, President of the China Wine and Spirits Awards organization. 'The most highly regarded brands in the world understand that giving the 'best value' to buyers means a great deal. For a consumer, it can also be a matter of 'saving face' here in China, where consumers want to be certain they are making the smart buying decision. CWSA medals are known for providing the clear professional recommendation."
We at DFJ VINHOS are honored and thank our whole team for their expertise. "We are very happy and will be displaying our CWSA medals on bottles with pride and are now preparing our next harvest celebrating with our team".
Here's the full list of awards:

Double Gold
- Portada Winemakers selection tinto 2011- V.R. Lisboa
- Bigode tinto 2011 - V.R. Lisboa

Gold Medals
- Coreto Joker tinto 2012 - V.R. Lisboa
- Portada Medium Sweet tinto 2012 - V.R. Lisboa
- Paxis Lisboa tinto 2011 - V.R. Lisboa
- Pedras do Monte Lisboa 2011 - V.R. Lisboa
- Grand'Arte Shiraz tinto 2011 - V.R. Lisboa
- Paxis DOC Douro - DOC DOURO

Silver Medals
- Portada Medium Sweet branco 2012 - V.R. Lisboa
- Casa do Lago tinto 2011 - V.R. Lisboa

TO KNOW MORE ABOUT THE CWSA 2014:
For further images see the following links:
http://www.cwsa.org/medal-and-press-images/
http://www.cwsa.org/cwsa-best-value-2014-photos/
Full results on www.cwsa.org

TO CONTACT DFJ VINHOS:
For further information or interview, contact: LUIS GOUVEIA; luis.gouveia@dfjvinhos.com; +351 243704701; www.dfjvinhos.com

DFJ VINHOS
DFJ VINHOS was created in 1998 and controls 400 ha of vineyards, mainly in the Lisboa wine region, exporting 95% of its production to 45 countries with a team of 28 people. JOSÉ NEIVA CORREIA it's the owner and chief-winemaker creating wines since the 1974 harvest. DFJ VINHOS achieved the BRC certification of the quality – highest level.
The national and international recognition it's a constant and we highlight:
• DFJ VINHOS won twice the "Red Wine of the Year" – IWC London
• DFJ VINHOS won the trophy "Portuguese winery of the year 2004" - Revista de Vinhos.
• DFJ VINHOS won the trophy "Portuguese winery of the year 2012" – NYIWC
• DFJ VINHOS won the "#1 Best Buy wine of the year 2012" - Wine Enthusiast.
• DFJ VINHOS won the trophy "Portuguese winery of the year 2013" – CWSA
• JOSÉ NEIVA CORREIA won the Trophy "MISTER WINE 2013" - Revista de Vinhos.
• Since 2010 DFJ VINHOS won 696 awards, 257 in 2013
DFJ VINHOS INFORMATION
Company profile:
http://en.dfjvinhos.com/v/the_new_portugal2

Certificate of the Quality BRC:
http://en.dfjvinhos.com/v/brc_certificate_of2

DFJ VINHOS won 257 awards in 2013
http://en.dfjvinhos.com/v/dfj_vinhos_won_2572