WINE-POACHED PEAR TART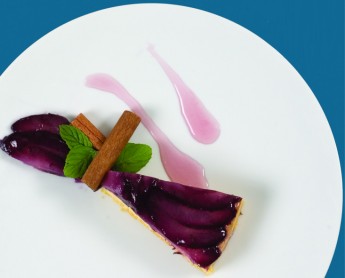 Serves 6-8
Ingredients
For the almond pâte brisée (tart dough)
Sugar 125g/4.4oz
Unsalted butter 250 g/8.8 oz
Salt flower 5g /0.17 oz
Vanilla powder 60 g/2.1 oz
Eggs 100 g/3.5 oz
Almond flour 75 g/2.6 oz
Flour 500 g/17.6 oz
For the almond biscuit
Egg whites 100g/3.5oz
Castor sugar 30g/1.05oz
Ground almonds 80g/2.8oz
Sugar 80g/2.8oz
For the cream
Cream 500 g/17.6 oz
Whole milk 500 g/ 17.6 oz
Sugar 75 g/2.6 oz
Eggs 400 g/14.1 oz
Cornflour 80 g
For the poached pears
Portada Red wine 1 l/ 4 cups
Redcurrant pulp 150 g/5.29 oz
Orange zest
Lemon zest
10 pears
Cinnamon, star anise and black pepper, to taste
Method
For the almond pâte brisée (tart dough)
Mix butter and sugar. Slowly and steadily stir in the eggs until well blended ad even. Blend together with the sifted flour, almond flour, vanilla powder and salt flower. Allow to stand in the fridge for 12 hours. Roll out the dough to a 3 mm/0.20 inch thickness and line a removable bottom tart ring. Prick with a fork and leave to rest in a cool place for two more hours. Bake in the oven at 160ºC/320ºF until slightly darkened.
For the almond biscuit
Whip the egg whites and sugar vigorously. Add the castor sugar and ground almonds and mix smoothly with a spatula. Place two 22 cm discs on baking paper with the help of a plain tipped pastry tube (10 mm). Bake in the oven at 180ºC.
For the cream
In a pan, carefully blend the cream and milk, sugar and eggs over a low heat until the temperature reaches 80º. Finally, add the cornflour and keep stirring until the mixture is smooth.
For the poached pears
Bring the wine, redcurrant pulp, orange and lemon zest and spices to boil. Peel the pears whole, and soak them in wine. Cover with paper before cooking for 15 minutes over a low heat. Check to see whether the pears are done. Allow them to cool for about four hours. Finally, drain the pears.
Display and finishing touches
Spread a layer of creme pasteleiro (a traditional egg-based Portuguese filling) over the bottom of the tart and cover with the biscuit discs and then place another fine layer of filling and another biscuit disc. Sliver the drained pears and spread them rose-like over the tart. Daub the fruit with apple jam heated in the microwave, garnish with a cinnamon stick, red currants and mint leaves
Complemented with Monte Alentejano White