WINE-POACHED STRAWBERRY TART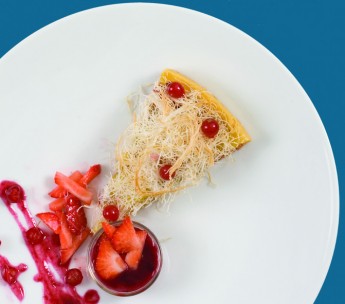 Menu for Special Ocasions
Serves 6-8
Ingredients
For the almond pâte brisée (tart dough)
Sugar 125g/4.4 oz
Saltless butter 250 g/8.8 oz
Salt flower
Vanilla powder 60 g/2.1 oz
Eggs 100 g/3.4 oz
Almond flour 75 g/2.6 oz
Flour 500 g/17.6 oz
Strawberries
PORTADA TINTO wine, to taste
Sugar, to taste
For the cream
Cream 500 g/17.6 oz
Whole Milk 500 g/ 17.6 oz
Sugar 75 g/2.6 oz
Eggs 400 g/6.8 oz
Cornflour 80 g/2.8 oz
Method
For the almond pâte brisée (tart dough)
Mix butter and sugar and slowly and steadily add the eggs until thoroughly mixed. Blend the sifted flour, almond flour, vanilla powder and salt flower together. Reserve and chill in the fridge for 12 hours. Roll out the dough to a thickness of about 3 mm/0.11 in. and fill a removable bottom tart ring. Prick with a fork and allow to rest in a cool place for a further two hours. Bake in the oven at 160ºC/320ºF until golden brown.
Strawberries
Halve the strawberries and place them in a bowl. Powder with sugar, pour over wine and cover with kitchen wrap. Allow to stand for 24 hours in cool place.
For the cream
Gently blend the cream, milk, sugar and eggs. Finally, add the cornflour and continue stirring until well mixed in.
To serve
Once cooled, fill the tart shell with the drained strawberries and top with cream. Bake at 200ºC/392ºF for 30 minutes (check regularly). Slightly before time, remove the tart from the oven and cover on top with kadafai pastry (available from gourmet groceries).Pour the wine syrup over and sprinkle with powdered sugar. Put back in oven. Once baked, allow to cool and garnish with redcurrant berries.
Complemented With Point West