QUINTA DE PORTO FRANCO – A historic terroir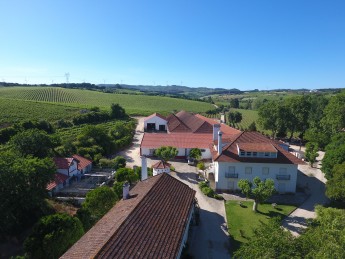 DFJ 14 Maio 2019 Drone (115) single estate Qta Porto Franco
Slideshow
A long alleyway of plane trees leads to the main entrance of Quinta de Porto Franco, a long, low building with the typical features of traditional agricultural houses in Alenquer.
The property came into José Neiva's family through his great-grandfather who bought it from the Viscount of Chanceleiros, a peer of the Kingdom, civil governor of Lisbon and minister of Public Works to King Dom Luís. A historical figure of Portuguese viticulture, Sebastião José de Carvalho, the 1st Viscount of Chanceleiros, was known for his innovative agricultural techniques; he had the foresight to replant the phylloxera-decimated vineyards using American vine rootstocks.
Two centuries later, Porto Franco became the central estate of a nucleus of properties bought and inherited by José's father.
The winery and vineyards now being under the control of DFJ Vinhos, S.A..
The estate is José Neiva Correia's birthplace and childhood home, 60 km north of the center of Lisbon, 20 km from the Atlantic Ocean. It consists of 80 ha of vineyards farmed using certified integrated production methods that respect the environment, soil and water table.
Surrounding the house and its terraces, many different colours paint the landscape: Alfrocheiro on one side, Moscatel on the other, a new Alicante Bouschet vineyard at the front and, on the left, Syrah, a vineyard that grew 14 tons per hectare in the second year of planting.
In fact, one of José Neiva Correia's constant concerns is to be able to increase the production of his vineyards without reducing the quality of the grapes. He is constantly studying and working to accelerate the production cycle of the vines, in order to achieve the best possible quality at the lowest possible cost.
Many of the young vines are in full production after 14 months whereas the average would be three to five years, this without compromising the quality of the wines.
A little further on, on the other side of the house, the old cellar that still bears the arms of the Lobo Garcez Palha family (18th century) has been restored and adapted to modern times: the deposits are lined with fiberglass and epoxy, the shutters and mouths were replaced by stainless steel and the modern vacuum filters for white and rosé wines ensure musts that are free of any substances in suspension. Only half an hour separates the harvesting of the grapes, all done by machine, and reception into the winery to start destemming, crushing and subsequent winemaking process.
Only the small parcels destined for the top of the range - FRANCOS and CONSENSUS are picked by hand, each bunch being carefully selected.
It has a winemaking and storage capacity of 3 million liters.
Fermentation of white wines in oak barriques is also carried out in Porto Franco.