APPLE AND WINE SOUFFLÉ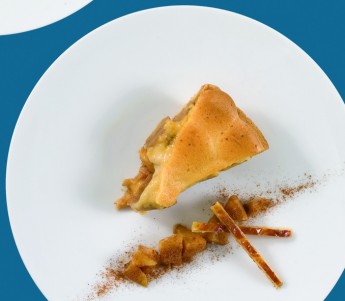 Autumn Menu
Serves 6-8
Ingredients
Apples soaked in Portada Medium Sweet Red
Pre-made puff pastry 400 g/14.1oz
Sugar 200 g/7 oz
Cream 100 g/3.5 oz
8 apples
Portada Medium Sweet Red wine 60 g/2.1 oz
For the soufflé dough
Whole milk 170 g/6 oz
Cream 170 g/6 oz
Egg yolks 80 g/2.8 oz
Wine 40 g/1.4 oz
Sugar 70 g/2.4 oz
Cornflour 35 g/1.2 oz
Egg whites 200 g/7 oz
Sugar 100 g/3.5 oz
Method
Apples soaked in Portada Demi Sweet Tinto
Dry cook the sugar until it gains a golden caramel hue before adding the cream and bringing to the boil. Stir in the diced apples and let simmer (do not let them overcook). Pour in the wine and let cool.
For the soufflé
Bring the milk and cream up to the boiling point. Meanwhile, make a creme de pasteleiro (egg-based traditional Portuguese pastry filling) with the egg yolks, sugar, and cornflour before finally stirring in the wine. With an electric mixer, stiffly beat the egg whites and sugar. Pour 1/3 of the whipped egg whites into the boiling milk and cream mixture and then gently afterwards coat this with the remaining egg white.
Set up and display
Line the 24 cm tart moulds with 400 g/14.1 oz of puff pastry, rolled out to a thickness of 2.5 mm/1/8 inch with the pastry edge rising slightly above the rim. Leave the puff pastry to rest in the fridge for at least 1 hour. Cook at 170ºC/ 338ºF for 15 m. Place the wine-poached apples in the tart. With the help of a pastry bag and a 12 mm plain tipped pastry tube, form big soufflé tears across the entire surface. Bake at 170ºC / 338ºF until golden. Allow to cool and dust the tart rim with anti-humidity sugar. Sear the apples with a blowtorch until golden and garnish the tart centre.
Complemented With Francos