DFJ VINHOS won 180 awards in 2012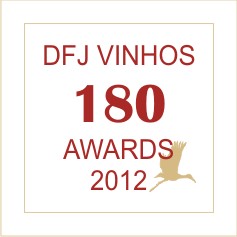 Logo DFJ 180 awards 20
In 2012 DFJ won 180 awards, including 20 gold medals, 41 silver medals and 3 trophies.
We are very proud as this it's the best recognition of the work of our team, always searching for the best quality and price of our wines.
In 2012 DFJ won 178 awards, including 20 gold medals, 41 silver medals and 3 trophies.
We highlight here the most important awards during 2012.

DFJ VINHOS won the # 1st best buy wine of the year 2012 in the Wine Enthusiast Magazine
The Wine Enthusiast is one of the most important wine magazines in the world and every year does the list of the 100 Best Buy wines selling in the USA.
In 2012 the experts at Wine Enthusiast tasted 17,000 wines, giving the designation "Best Buy" to only 1134. Then they made the list of the 100 best, and the best of all was the VEGA Douro red 2009 from DFJ Vinhos.
For the first time a Portuguese wine appears at the top of this list.

Also in 2012 the DFJ Vinhos won more 29 Best Buys in this magazine.
In 2011 DFJ VINHOS won the 9th Best Buy wine of the year with the GRAND'ARTE Alvarinho 2010 (the first Portuguese white wine in the Top 10). It's the 6th time that DFJ it has a wine in the list of the 100 Best Buys since 2006.
MORE INFO at: http://en.dfjvinhos.com/v/dfj_vinhos_won_the__1st

DFJ VINHOS the PORTUGAL WINERY OF THE YEAR 2012
The DFJ Vinhos team was very proud after received in the NEW YORK INTERNATIONAL WINE COMPETITION 2012 the award:
PORTUGAL WINERY OF THE YEAR
The NYIWC is the only major international wine competition to be judged solely by trade buyers. Each wine is judged by its category and retail price. All participating judges have purchasing power through their stores, restaurants, distribution networks, which results in their ability to have a direct impact on brand sales.
MORE INFO at: http://en.dfjvinhos.com/v/dfj_vinhos_portugal

DFJ VINHOS won 20 gold medals in 2012
Was fantastic to get in several wine contests around the world 20 gold medals. It was a global recognition of the quality of our wines.
MORE INFO at: http://en.dfjvinhos.com/v/2012_list_of_awards

DFJ VINHOS
DFJ Vinhos was born in 1998 and its owner Mr. José Neiva Correia was also its chief winemaker. Since the foundation DFJ its export-oriented (now 95%) to 45 countries. It controls over 400 ha of single estates, producing an average of 6 million bottles, with a group of 28 people. Recognized in Portugal and abroad we highlight:
• Portuguese wine company of the year 2004 / Revista de Vinhos Magazine award.
• Twice winner of the trophy RED WINE OF THE YEAR in the International Wine Challenge - London.