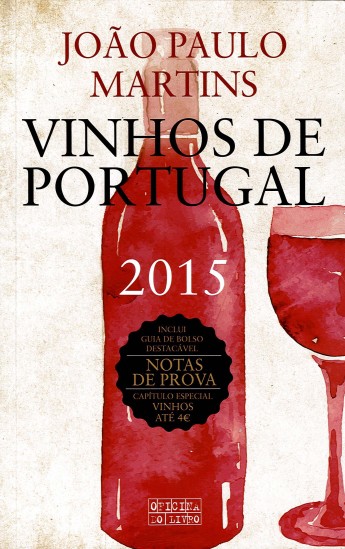 foto_guia de vinhos 2015
Grand'Arte Pinot Noir 2006
17
Tasted again in 2013. This red comes from own vineyards in Alenquer region, had an ageing of 12 months in oak barrels and has about 14% alcohol. With other vineyards planted in Torres Vedras the total area of Pinot will be 20 Ha. With the time in bottle the wine lost concentration of color and already has the first brownish notes, which is characteristic of this varietal and not a sign of old age. The fruit is very nice, full of notes of blackcurrant and strawberry. Good provision in the mouth, good style of ripe fruit (strawberries) and some vegetable moss type. Away from the style of the Portuguese wines, but very thin and delicate. A red to know.

Consensus 2008 tinto Pinot Noir & Touriga Nacional
17
Tasted again in 2013. The ageing was 18 months in oak barrels and one year in bottle. Remains a red very gently and the varieties show up very well and in perfect dialogue. Floral, elegant and original, it's a very interesting red able to provide good times. This is a blend of varieties to explore, because it seems that work very well together. The set shines the finesse, delicacy and maintains a good gastronomic aptitude. Previous good crops: 2006.

Grand'Arte Alicante Bouschet 2009
17
Tasted again in 2013. Again, dense in color and aroma, with very chemical notes, pharmacy, black fruit (plum, blackberry) alongside other green ones such as olive and some leather. Much softened in the mouth, it becomes easy to like because it is soft and the tannins not complicate the tasting. It will be a good partner of dry cheese or seasoned pork meat. Be sure to keep a few bottles in the cellar. It is a profile of Alicante Bouschet softened and polished that evolved nicely. Previous good crops: 2006.

Francos 2011 tinto Reserva
17
Tasted in 2014. Made with Touriga Nacional, Touriga Franca and Alicante Bouschet. The wine has a medium concentration, an aroma still somewhat closed because it was bottled recently, but it shows up again polished and ripe fruit but with great quality. In the mouth gives very good evidence, good balance, the fruit is alive and well elegant, all very well composed. It is a wine loved by the producer, the only one whose grapes are harvested by hand. About 22 000 bottles produced. Previous good crops: 2009
(This wine will be released in the end of 2014)

DFJ Pinot Noir & Alfrocheiro 2008
16.5
Tasted again in 2013. The color is very good and the aroma shows that the time has softened the Pinot and the dialogue with the Alfrocheiro is now more outspoken. Very stylish and elegant in the mouth, has a beautiful profile of red that could be a big hit at the table, no edges, all very elegant and well done.

Grand'Arte Touriga Nacional & Shiraz Special Selection 2011
16.5
Tasted in 2014. 50% of each varietal, 12 months in recovered barrels, and 10 000 bottles were made. Aroma very vigorous, with a style of ripe fruit, light floral still in a hidden phase. The wine is new and needs time. Very well in the mouth, engaging, rich in fruit, fine tannins but still very present. Its recommended to keep it in the cellar.

Patamar Reserva 2011
16
Tasted in 2014. Beautiful color and dense aroma, with ripe fruit and a vigorous style but without hurting. The vegetable side mark the tasting this being also a Douro characteristic. Good wine with good balance.

Grand'Arte Alvarinho 2013
16
The aromas of the Alvarinho are well present, in a fine registration of fresh fruit and light tropical notes, all in an elegant record. Large proportion in the tasting, unctuous and fresh, soft, engaging with character. Long finish. A good example of the varietal planted outside of the area of origin.

Grand'Arte Chardonnay 2013
16
Discreet Chardonnay aroma, but with a focus on green fruit, combine here with a vegetable side with aromas of apple. Very round and soft, acidity allowing a fresh and tasty tasting, full of ripe fruit very elegant.

DFJ Alvarinho & Chardonnay 2013
16
Good aroma, the focus goes to the citrus notes here in association with some dry vegetable, light notes of white flower. Good volume in the tasting, fine and of live acidity, here we feel mainly citric notes, we have an exquisite white, with a highly convenient price, compared to the quality. To fish dishes.

Consensus Branco 2009
16
Tasted in 2013. As a curiosity we tasted this 2009 that shows a straw color, with many toasted notes with a noble evolution, we feel more present the Chardonnay, but still showing a lot of character and a huge gastronomic aptitude in particular for cheeses. Unctuous, fat, but with good acidity. Beautiful white.

Consensus Branco 2012
16
Tasted in 2014. Since the release developed a very ripe fruit - quince, apricot - along with the resinous notes and hints of toasted barrel that does not get it anything bad. The wine has volume in the mouth, the acidity is excellent, much less full-bodied than the aroma suggested, and clearly will be now in the right point to be consumed. With oily fish, with cheese, with salads that incorporate mayonnaise.

Pedras do Monte Lisboa Cabernet & Tinta Roriz 2011
16
Tasted in 2014. Very good balance of the greenest and fresh notes of Cabernet with a more serious tone of the Roriz, very attractive result. Very well in the tasting, elegant, direct and without secrets with immense gastronomic aptitude. A big bet.

Casa do Lago Grande Reserva Cabernet Sauvignon 2011
16
Tasted in 2014. Very good aromatic presence, with spicy notes of the varietal plus the hints of ripe black fruits, all alive, but with weight, and still very dark, telling us that needs time. Good tasting, fresh with cooperating tannins, is a fine example of the varietal, ripe and full. Very Interesting.

Grand'Arte Shiraz 2011
16
Tasted in 2013. The color is good and the wine is showing a frank aroma, with ripe fruit and light notes of jam, all without weight. The tasting is showing a nice red wine, the tannins are fine and the result shows a high level, with red fruits very well inserted. In total represents more than 60 000 bottles, with about 35 000 bottles sold for a chain of restaurants in England. Previous good crops: 2009, 08, 07, 05.