DFJ VINHOS receive Trophy "BEST PRODUCER PORTUGAL" at Berliner Wein Trophy 2017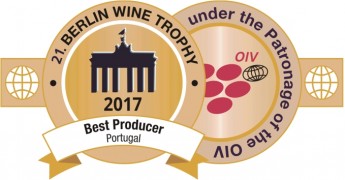 logo Berliner Best Producer Portugal 2017
The company received in 2017, until now, 468 awards.
Quinta da Fonte Bela, July 10, 2017
DFJ Vinhos, one of the most innovative and recognized Portuguese wine producers, received the trophy "BEST PRODUCER PORTUGAL - Still Wine" in the Berliner Wein Thophy 2017.
In addition DFJ VINHOS also received one double-gold medal, five gold and two silver with its wines listed below.
This German competition is one of the most respected in the world, being of enormous importance to the recognition of a wine producer company and even more to those who want to export more and better.
Mr. José Neiva Correia, the owner and winemaker-chief of DFJ Vinhos remarked "These awards are a recognition of the work we have done recognizing the commitment and demand that we have in the production of our wines".
Double-gold Medal
Gold medal
Escada Reserva red 2013 - DOC Douro
Patamar Reserva red 2013 - DOC Douro
Bigode red 2015 - Vinho Regional Lisboa
DFJ Touriga Nacional & Touriga Franca 2014 red - Vinho Regional Lisboa
Silver medal:
Paxis Pinot Noir 2013 red - Vinho Regional Lisboa
Grand'Arte Alvarinho 2016 white - Vinho Regional Lisboa
====================================================================
About DFJ Vinhos
DFJ Vinhos is a family-owned company founded in 1998.
It belongs to Mr. José Neiva Correia, who is the winemaker- chief, producing wines since the 1974 harvest, having been awarded "Portugal's Mister Wine 2013" by Revista de Vinhos. Mr. Neiva Correia it's recognized internationally as one of the great responsible for the innovation and modernity of the Portuguese wines.
DFJ VINHOS controls 800 ha of vineyards in partnerships with several single estate producers. The most important partnership is with the Company RUI ABREU CORRREIA E HERDS (estates of the Mr. Neiva Correia family), 200 ha in the wine region of Lisbon.
DFJ VINHOS does vinification in 2 winemaking centers, reaching sales an annual average of 6 million bottles, more than 98% exported to more than 50 countries, with a staff of 34 people.
DFJ VINHOS is dedicated to continuous research and development, possessing the highest degree of quality certification by the BRC standard since 2009.
DFJ VINHOS is one of the most internationally awarded wine companies.
Since 2010 DFJ won 2072 awards, 466 only in 2017.
Since 2006 DFJ wines reach 9 times the TOP BEST BUY OF THE YEAR list of Wine Enthusiast.
====================================================================
More information about DFJ VINHOS

Recognition highlights
• "PORTUGUESE WINE COMPANY 2004" by REVISTA DE VINHOS wine magazine - Portugal.
• #1 TOP BEST BUY OF THE YEAR 2012 in the Wine Enthusiast Magazine, with VEGA Douro red 2009
• Twice winner of the "RED WINE OF THE YEAR" in the International Wine Challenge – London.
• "PORTUGAL WINERY OF THE YEAR" 2012 and 2014 at New York Wine Competition.
• "PORTUGUESE WINERY OF THE YEAR 2013" at the China Wine Spirits Awards/ CHINA.
• "PORTUGAL RED WINE PRODUCER 2015" – NYIWC / USA
• "CWSA 2015 ALENTEJO wine producer" / CHINA
• "CWSA 2016 DOURO wine producer" / CHINA
• "PORTUGUESE WINE OF THE YEAR" 2016 at CATHAY wine awards | HONG KONG
• "CWSA PORTUGUESE WINE OF THE YEAR" 2016 and 2017
• "PORTUGAL WINE PRODUCER OF THE YEAR" 2016 and 2017 at BERLIN International Wine Competition
• "BEST PRODUCER STILL WINE PORTUGAL" 2017 at Berliner Wein Trophy

Mr. José Neiva received the trophy "MISTER WINE 2013" the most important Portuguese wine award.
Since 2010 DFJ won 1825 awards, 219 only in 2017 (28 trophies, 68 gold medals).
Since 2006 DFJ wines reach 10 times the TOP BEST BUY OF THE YEAR list of Wine Enthusiast

DFJ VINHOS PRESENTATION
Visit our website to know more in the following links:
http://www.en.dfjvinhos.com/v/company_profile2
http://www.dfjvinhos.com/v/the_new_portugal

AWARDS
In 2016 DFJ VINHOS won 360 awards, here's the full list:
https://dfjvinhos.com/v/360_awards_in_20162

In 2017 DFJ VINHOS already won 466 awards, here's the full list:
http://dfjvinhos.com/v/219_awards_in_2017_and


VIDEOS
To know more about us here's 4 videos:

WINE ENTHUSIAST visit
Produced by Wine Enthusiast 2015
https://www.youtube.com/watch?v=urBQ4q6TIeI&spfreload=10

DFJ VINHOS and the brand PORTADA seen by Polish people
Produced by TIM-Wina 2016
https://www.youtube.com/watch?v=lUIH3rWRw7Q

JOSÉ NEIVA CORREIA and DFJ VINHOS
Produced by Essência do Vinho 2016
https://www.youtube.com/watch?v=iQ6kmcL1JSI

JOSÉ NEIVA CORREIA PORTUGAL'S MISTER WINE 2013
Produced by Porto TV channel 2014
https://www.youtube.com/watch?v=OyK_v-mN9NY