ESCADA Reserva Douro selected "PORTUGUESE Wine of the Year" at CWSA 2017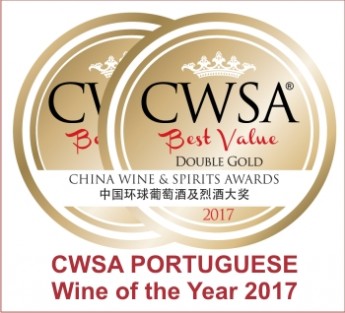 logo CWSA Portuguese wine of the year 2017_frame
DFJ VINHOS won a very important trophy in the biggest and most prestigious wine and spirits competition in China!
We are proud to see our work recognized at the highest level in the Contest CHINA SPIRITS WINE AWARDS BEST VALUE 2017.
The ESCADA Reserva red 2013 has just won Double Gold, but above all get the important the CWSA PORTUGUESE Wine of the year 2017 Trophy.
Mr. José Neiva Correia has already contacted and informed about it several of our customers and friends that this award confirms the quality of our work with this brand in the Douro region:
More wines from DFJ won prominent awards in this issue. Here is the complete list.
CWSA TROPHY "PORTUGUESE WINE OF THE YEAR 2017"
Escada Reserva DOC Douro red 2013 - DOC Douro


DOUBLE GOLD
Coreto Joker red 2015 - Vinho Regional Lisboa
Coreto Joker rose 2016 - Vinho Regional Lisboa
Portada Winemakers Selection rose 2016 - Vinho Regional Lisboa
Portada Winemakers Selection red 2015 - Vinho Regional Lisboa
Fonte do Beco red 2014 - Vinho Regional Peninsula de Setubal
Pomar red 2015 - Vinho Regional Lisboa
Monte Alentejano red 2014 - Vinho Regional Alentejano
Paxis Lisboa red 2015 - Vinho Regional Lisboa
Escada Reserva DOC Douro red 2013 - DOC Douro
Escada Touriga Nacional red 2015 - Vinho Regional Lisboa
Grand'Arte Alvarinho 2016 - Vinho Regional Lisboa
Grand'Arte Chardonnay 2016 - Vinho Regional Lisboa
Grand'Arte Pinot Noir 2013 - Vinho Regional Lisboa
Aluado Alicante Bouschet red 2015 - Vinho Regional Lisboa
Brigando rose 2015 - Vinho Regional Lisboa
Brigando red 2015 - Vinho Regional Lisboa

GOLD
Bigode red 2015 - Vinho Regional Lisboa
Bigode rose 2016 - Vinho Regional Lisboa
Bigode branco 2016 - Vinho Regional Lisboa
Coreto Joker branco 2016 - Vinho Regional Lisboa
Alta Corte red 2014 - Vinho Regional Lisboa
Paxis Medium Dry white 2015 - Vinho Regional Lisboa
Patamar Reserva 2013 - DOC Douro
Casa do Lago branco 2016 - Vinho Regional Lisboa
Casa do Lago rose 2016 - Vinho Regional Lisboa
DFJ Alvarinho & Chardonnay 2015 - Vinho Regional Lisboa

SILVER
Paxis Pinot Noir 2013 - Vinho Regional Lisboa

BRONZE
Paxis Arinto 2015 - Vinho Regional Lisboa
Segada white 2015 - Vinho Regional Lisboa

DFJ VINHOS Presentation
https://en.dfjvinhos.com/v/company_profile_summary2

Certification of the quality BRC - Highest Level
https://en.dfjvinhos.com/v/brc_certificate_of6

DFJ VINHOS won 311 awards in 2015:
https://en.dfjvinhos.com/v/2015_list_of_awards

DFJ VINHOS won 360 awards in 2016:
https://en.dfjvinhos.com/v/360_awards_in_2016

Wine Enthusiast List of ratings in 2016
https://en.dfjvinhos.com/v/wine_enthusiast_20162

To more informations please contact:
DFJ VINHOS; Luis Gouveia (Director Comercial e Marketing); luis.gouveia@dfjvinhos.com; www.dfjvinhos.com