VEGA awarded DOURO WINE OF THE YEAR 2016 Trophy in China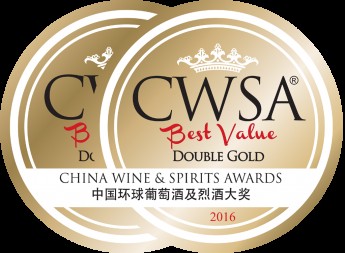 CWSA double gold best value 2016
DFJ VINHOS won a very important trophy in the biggest and most prestigious wine and spirits competition in China!
We are proud to see our work recognized at the highest level in the Contest CHINA SPIRITS WINE AWARDS BEST VALUE 2016.
The Douro red VEGA 2013 has just won Double Gold, but above all get the important CWSA DOURO WINE OF THE YEAR 2016 Trophy.
Mr. José Neiva Correia has already contacted and informed about it several of our customers and friends that this award confirms the quality of our work with this brand in the Douro region:
"The VEGA Douro red 2009 won the # 1 TOP BEST BUY OF THE YEAR 2012 in Wine Enthusiast. Incidentally was the first time a Portuguese wine topped this list. Previously the VEGA Douro Red 2005 had been voted the # 75 TOP BEST BUY OF THE YEAR 2008 in Wine Enthusiast. The 2011 harvest also reached BEST BUY rating and 90 points in Wine Enthusiast. With that trophy we clearly saw there's a consistent and continuous high quality in our work with the brand VEGA in the Douro region either in USA or in China. "
More wines from DFJ won prominent awards in this issue. Here is the complete list.
DFJ VINHOS INFORMATION
Company profile:
http://en.dfjvinhos.com/v/the_new_portugal2

Certificate of the Quality BRC:
http://en.dfjvinhos.com/v/brc_certificate_of5

DFJ VINHOS won 311 awards in 2015
http://en.dfjvinhos.com/v/dfj_vinhos_won_311

2015 List of ratings and other in the Wine Enthusiast
http://en.dfjvinhos.com/v/wine_enthusiast_20152

For further information or interview, contact:

DFJ VINHOS; Mr. Luis Gouveia (Sales and Marketing Director); luis.gouveia@dfjvinhos.com; www.dfjvinhos.com