DFJ won 27 awards at the AWC 2009 wine contest in Viena.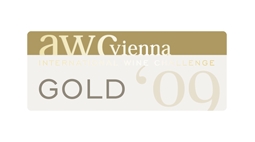 siegel_gold_2009 large
April 16, 2012
DFJ won 1 gold medal, 21 silver medals and 5 Seal of Approval.
DFJ won one gold medal with:
Pedras Do Monte Red Castelão 2007 GOLD

DFJ won 21 silver medals with the wines:
Grand'Arte Chardonnay White 2008 SILVER
Grand'Arte Arinto 2008 SILVER
Casa Do Lago White Fernão Pires, Arinto, Chardonnay 2008 SILVER
DFJ Alvarinho & Chardonnay White Alvarinho, Chardonnay 2008 SILVER
Segada White Fernão Pires, Arinto, Chardonnay 2008 SILVER
Grand'Arte Touriga Nacional Rosé 2008 SILVER
Casa Do Lago Rosé Touriga Nacional 2008 SILVER
Pink Elephant Rosé 2008 SILVER
Patamar Reserva Red 2007 SILVER
Vega Red 2007 SILVER
Segada Red Touriga Nacional, Castelão, Cabernet Sauvignon 2006 SILVER
Alta Corte Red Caladoc, Tinta Roriz 2006 SILVER
Casa Do Lago Red Touriga Nacional, Castelão, Cabernet 2006 SILVER
Paxis Red 2007 SILVER
Coreto Red (Joker) 2007 SILVER
Portada Red 2006 SILVER
Grand'Arte Shiraz Red 2007 SILVER
Point West Red Touriga Nacional 2005 SILVER
Grand'Arte Tinta Roriz Red 2005 SILVER
Casa Do Lago Grande Reserva Red Cabernet Sauvignon 2005 SILVER
Pedras Do Monte Red Cabernet Sauvignon, Tinta Roriz 2005 SILVER

DFJ won 5 seal of award with the following wines
Alta Corte White Arinto 2007 Portugal SEAL
Point West White Alvarinho Chardonnay 2008 SEAL
Grand'Arte Alvarinho white Alvarinho 2008 Portugal SEAL
Portada White 2008 SEAL
Portada Rosé 2008 SEAL

The AWC Viena was one one of the biggest and more recognized international wine world awards.
The DFJ VINHOS team was proud of those awards as they represent the recognition of its work.