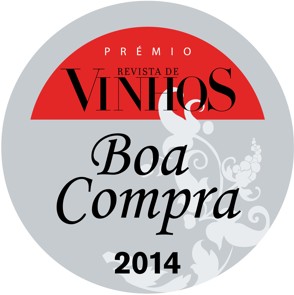 Logo_RV_Boa Compra_2014
• PAXIS Caladoc & Tinta Roriz red 2011 - V. R. Lisboa – 15 pt
• PAXIS Arinto white 2012 - V. R. Lisboa – 15 pt
• CASA DO LAGO Touriga Nacional & Cabernet Sauvignon red 2010 – V. R. Lisboa – 15 pt

Monte Alentejano Reserva tinto 2012
15,5
Full color, aroma where the ripe fruit are present, light notes of leather and tree bark, warm but not heavy. Full and round in the mouth, with elegant tannins and a fresh body.(13%) JPM

Segada Branco 2013
14,5
The greener fruit, Granny Smith apples and a touch of green asparagus make up the aroma. Very well in the mouth, balanced acidity, elegant and easy on the body, all in a very gastronomic register.(12%) JPM

Point West Alvarinho & Chardonnay 2013
15
The first feeling is vegetable. The fruit is somewhat hidden but feels good proportion of a white that grows in the glass. The wine has volume, the acidity gives it immense freshness, finishing harmonious. (12%) JPM

Portada Winemaker's Selection branco 2013
14,5
Fresh aroma well lemony, simple but nice cut, with delicate fruit. Very well balanced in the mouth, light in body, there is a summer season appealing raised by the good acidity that calls light dishes.(11,5) JMP

Paxis Arinto 2013
15
Very fresh in the aroma, with abundant notes of green vegetables, all very direct and accomplished. The body is light and the acidity high but the whole works quite well rounded and very clean.(12%) JPM

Grand'Arte Chardonnay 2013
16
Delicate Chardonnay aroma with hints of green fruit, here combining a vegetable side with notes of apple.
Very round and soft, acidity allowing a fresh and tasty tasting, full of ripe but elegant fruit.(13%) JPM

Grand'Arte Alvarinho 2013
16
The aromas of the Alvarinho are well present, showing a fine fresh fruit and light tropical notes. Full in the mouth, unctuous and fresh character. Long finish.(12,5%) JPM
Grand'Arte Shiraz
The Syrah grape variety (here written in the Australian way Shiraz) seems very obvious but in a more Atlantic profile, with the ripe and concentrated fruit refreshed by good acidity. A touch of smoke, cocoa and spices gives it complexity and character and the finish is long and juicy. Is ready to drink and should be a good companion for the summer grills.(13,5%)

Bigode
Regional Lisboa
Tinto 2012
14.5
Light in color, discreet flavor, with some vegetal notes, a very easy and direct style, with the tasting in the mouth confirming a profile of red that is for everyday, smooth without edges.

DFJ Alvarinho e Chardonnay
Branco 2013
16
Aroma of good intensity, beautiful expression on the combination of the two grape varieties, with slight aroma to the Alvarinho. In the mouth we feel much body, cheerful and alive, finishes very pleasant, always with beautiful freshness. Ideal for grilled fish.