João Paulo Martins - Vinhos de Portugal 2016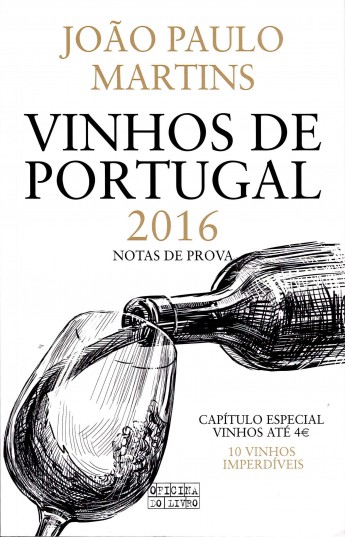 capa livro joao paulo martins 2016 copy
Vinhos até 4 euros:

Alta Corte
2011 tinto CALADOC/TINTA RORIZ
15.5
Tasted in 2014. The wine is sold primarily in Norway where sales have had a tremendous growth. The aroma shows again a good floral and light menthol presence, the aroma is fresh, very elegant and shows an enviable youth. Soft and easy on the mouth, one feels that we have wine for multiple culinary solutions.

Casa do lago
2012 tinto Cabernet Sauvignon/Touriga Nacional
15.5
Tasted in 2014. The blend works because it is difficult to distinguish here the two grapes present but without the result damaged, hence the interest. It works very well, fresh, very mature and correct. Very good proportion in the mouth, silky tannins and acidity on the spot, all contributing to a very enjoyable tasting.

Coreto
2014 tinto
14
Slight aroma where the ripe fruit is present, all of it discreet but focused and without edges, with that aroma that is easily to everyone's liking. Easy and round in the mouth, very soft and easy to drink because the low graduation (11.5%) also helps.

Paxis
2014 branco Arinto
15.5
It is intended for foreign markets and therefore internally is only available at DFJ Vinhos. Very fresh and aromatic, with green notes and citrus fruits well present, the wine has a very clear summer side. Good volume in the mouth, well integrated acidity here to patronize the wine, the fruit is in evidence here and works well as a whole.

Pedras do Monte
2012 tinto Cabernet Sauvignon e Tinta Roriz
16
Tasted in 2015. Very good connection of green and fresh notes of Cabernet, which here feel good and give freshness to the wine, along with a more serious tone of Roriz, resulting very attractive. Very well also in the mouth, elegant, direct and without secrets, with great gastronomic aptitude. A big bet here too sponsored by the Cabernet.

Portada Winemakers Selection
2014 branco
15.5
It is now more distributed in the domestic market, mainly in restaurants. Very fine aromas, many notes of citrus fruit and vegetable. Very round in the mouth, the acidity is here but well integrated, it would appear pleasant consumption now.

Portada Winemakers Selection
2014 rosé
15
For sale in the domestic market but especially in Madeira and the Azores. The production is around 300,000 bottles. Very light salmon color, simple aroma with light notes of strawberry and blackcurrant, discreet but fine. Very balanced in the mouth, light residual sweetness makes it easy to taste. Good acidity well refreshing. A good wine for the terrace or pasta dishes and salad at the table.

Portada Winemakers Selection
2013 tinto
15
Tasted in 2015. It is especially in restaurants. Blended wine from various grape varieties. The English market absorbs almost two million bottles. Good aromatic balance, the fruit is fresh and is very attractive, very capable for food and shows a lot of versatility to the table. Round and polished without hard tannins, in has a full mouth tasting, light presence of sugar and shows a good gastronomic aptitude. As wine to drink in the year is very good.

Storks Landing Pinot Noir/Shiraz
2013 tinto
15.5
Tasted in 2015. A kind of tribute to storks occupy the roofs of the company. Made in equal parts, Pinot Noir and Syrah. Very well in color, slight but very attractive, with ripe fruit but in a slim profile. The whole show is very easy and elegant in the mouth, are those reds that are greedy and feel like drinking. With a passage in the refrigerator, of course.

Península de Setúbal:

Pedras do Monte
2013 tinto Castelão
15.5
Very well in color and aroma, here is ripe but not tiring fruit that commands the tasting, it's very attractive. Polished, soft in the mouth, well balanced and with great gastronomic aptitude, is an absolutely consensual red, everyone likes this.

Alentejano:

Monte Alentejano
2014 branco
Intense smell of ripe yellow fruit, spices, light notes of dried flowers. Fresh in the mouth, very light again in the body, is a white with good gastronomic aptitude, always thought to be consumed in the year. It will be always a good bet.

Monte Alentejano
2010 tinto
14.5
Provado em 2014. Ligeiro na concentração, boa perceção de fruta, leve e com boa aparência. Na boca está ligeiro mas dá boa prova, é o tipo de vinho do quotidiano que será sempre muito polivalente á mesa.
Tasted in 2014. Light in concentration, good perception of fruit, light and looking good. In the mouth it is slight but gives a good tasting, is the kind of daily wine that will always be very versatile at the table.

Monte Alentejano
2013 tinto Reserva
15.5
Tasted in 2015. Notes of ripe fruit in the aroma, is fresh and well attractive with good concentration. Easily in the mouth, soft, with discreet tannins, is a red that can stand in the cellar, but in truth, it is now that he must be drunk.
Douro:
Escada
2007 tinto
Tasted again in 2015, remains on the market. Keeps it in good shape and so we keep appreciation: concentrate on color, aroma with a vegetable touch with chemical dry grass notes and suggestions but also with the first liquor notes to arise. Despite the concentration, maintain a good elegance in the tasting in the mouth with hidden tannins, it is a red that should not be kept longer in the cellar. Is giving very good evidence now, it is a beautiful surprise.

Patamar
2011 tinto Reserva
16
Tasted in 2014. Perfectly in color and dense aroma, with ripe fruit and a vigorous style but without hurting. The vegetable side mark well the tasting in the mouth, and this is also a Douro characteristic. The set is in good state of balance between the parts.

Vega
2013 tinto
15.5
Tasted in 2015. Well in color, ripe fruit aroma and a whole shows very well. Good floral presence, dry vegetable, ripe fruit, all nicely arranged. Soft and light sweetness in the mouth, is accessible red that needs to be drunk cooler.

LISBOA:

DFJ
2014 branco Alvarinho/Chardonnay
16
Good aroma, the focus goes to the citrus notes here in association with light white flower notes, more evident the Chardonnay than the Arinto. Good volume in the mouth, fine and very lively acidity, here especially avenge the citric notes, have a refined white, with a highly convenient price, compared to the quality. To fish dishes in a gentle cooking.

Casa do Lago
2011 tinto Grande Reserva Cabernet Sauvignon
16
Tasted in 2014. Very good aromatic presence, with spicy notes of black fruit of the Cabernet plus very mature notes, everything alive but with weight and still very dark, telling us that needs time. Good mouth tasting, fresh and gentle tannins, is a fine example of the grape variety, mature and full. Very interesting.

Consensus
2012 branco
16
Tasted in 2014. With the lifetime it takes developed a very ripe fruit - quince, apricot - alongside resinous notes and good toast barrels suggestions which stands well. The wine has volume in the mouth, the acidity is excellent, it's less full-bodied than the aroma suggested and, clearly, will now be in the right spot to be consumed. With oily fish, with cheese, with salads that include mayonnaise.

Consensus
2008 tinto Pinot Noir/ Touriga Nacional
16.5
Tasted again in 2015. The ageing was 18 months in barrel and one year in bottle. It remains a red very gently and the grape varieties are very good and in perfect dialogue now with some aromas of liquor - Floral, elegant and original, is a very interesting red and able to provide good moments. This is a link between these grape varieties to explore. The set maintains a good gastronomic aptitude.
Previous good harvests: 2006.

Escada
2014 Touriga Nacional
16
Almost exclusive sale to Norway (where is the best selling red wine) and producer store. Very well in color and aroma, here with some well placed floral. Very polished in the mouth, soft, with an acidity that is here to give a good freshness to the wine. It works well and there is no wonder that success, the wine has everything to please and be versatile at the table.

Francos
2011 tinto Reserva
17
Tasted again in 2015. Made with Touriga Nacional, Touriga Franca and Alicante Bouschet. The wine has good concentration, an aroma that shown again polished and with ripe fruit of great quality. In the mouth it gives a very good tasting, refined, the fruit is alive and well elegant, all very well composed. It is one of the producer's favorite, the one whose grapes are picked by hand. About 22,000 bottles produced.

Grand'Arte
2014 branco Alvarinho
The variety of flavors are beautifully presented in a fine record of fresh fruit and light tropical notes, always here in a register which is very nice. Large proportion in the tasting, unctuous and fresh, soft, full with character. The wine is light, it is elegant and gives a good tasting. A good example of the varietal, planted outside the area of origin.

Grand'Arte
2014 branco Chardonnay
16
Discreet aroma of the varietal but focused on green fruit, here combining a vegetable side with green apple aromas. Very round and soft acidity to allow fresh and tasty tasting, full of ripe fruit but elegant. It is a good example of the variety in a very consensual version because everyone will like. Do not expect to find here a white to compare with this or that region. This is from Lisbon and is very well done.

Grand'Arte
2012 tinto Shiraz
16
Tasted in 2014. The color is good and the wine is showing a direct aroma, with ripe fruit, light balsamic note. The mouth tasting show a beautiful red, the tannins are fine and the tasting results at a good level, with very good red fruits combined. In total, already represents more than 60 000 bottles, with about 35 000 bottles sold to a restaurant chain in England.
Good previous harvests: 2001, 09 08

Grand'Arte
2012 tinto Touriga Nacional
16.5
Tasted in 2015. The wine shows up elegant aroma, very fine in the fruit and floral notes but all very pleasant and very well balanced. Elegant in the mouth with very fine tannins with a very attractive fruit that makes the tasting a pleasure.

Grand'Arte
2011 tinto Touriga Nacional/Shiraz Special Selection
16.5
Tasted again in 2015. The grape varieties in equal parts, 12 months in recovered barrels. About 10 000 bottles were made. Aroma very vigorous, with a ripe fruit style, mild floral still hidden. The wine evolves well and is now at its best point. Very well in the mouth, balanced, rich in fruit, fine tannins but still pretty present, all recommended to the table, with meat dishes.