QUINTA DA FONTE BELA – The Cathedral of Wine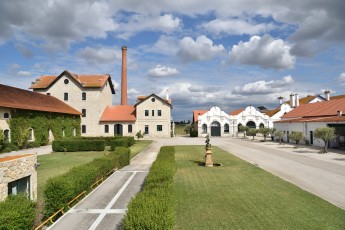 Quinta Fonte Bela single estate_DFJ headquerters (306) red
Slideshow
Located in Vila Chã de Ourique - Cartaxo, 80 km north of the city of Lisbon and 5 km west of the Tagus River, it is a unique, 100 year old property. Most of the buildings belong to the so-called "Iron Architecture" used in the second half of the 19th century.
All installations were designed by engineers from the Eiffel atelier, who were in Portugal designing public works, including the D. Maria bridge in Porto. The owner of the Quinta at the time (António Francisco Ribeiro Ferreira) took advantage of the presence of these engineers and commissioned the plans for what would become the center of their agricultural activity.
The first building, the winery, was completed in 1897. The exterior architecture is also unique in Portugal for being characteristic of southern France, which was almost certainly the homeland of the engineers. A set of stone buildings, imposing and unusual for the region, a mixture of French architecture including the use of Marseilles tiles, with some remaining industrial architecture, particularly the impressive distillery chimney that can be seen from many kilometers away .
Also known in the region as "The Cathedral of Wine", Quinta da Fonte Bela is made up of several buildings, including the headquarters of the DFJ's offices, a winemaking center, the bottling line, warehouses, a winery with a capacity of 13.3 million liters, laboratory and visitor's tasting room. There is also what used to be the cellars with the largest wooden barrel storage capacity in Portugal, the space is now used for ageing wine in French oak barriques but some of the impressively sized original barrels still remain on show.
The cooperage is another crucial element of DFJ VINHOS and it is dedicated solely to the renovation of French Allier barriques which is the only type of oak barrel used at DFJ. The cooperage allows for the judicious use of oak ageing according to the technical needs of the winemaker, for the best white and red wines.
Quinta da Fonte Bela has 50ha of vineyards planted with Alicante Bouschet, Shiraz, Tannat, Moscatel and Sauvignon Blanc.